Online Marketing Agencies in Quebec
Are you a startup or SME (small to mid-size enterprise) owner and wondering how to develop your visibility and online sales? You are not alone: ​​At a time when nearly 81% of Internet users search online before making a purchase, web marketing is a major issue for almost every Quebec business. Let's talk about the Top 5 Online Marketing Agencies in Quebec.
Realizing the impact that a web marketing strategy can have on a business, our clients often ask us: how to develop a web marketing strategy? In addition to undergoing web marketing strategy training, you can also request a web marketing agency to support you throughout the process.
If you're interested in learning more about starting an online business read Our Beginner's Guide to Ecommerce and The Benefits of a Landing Page. Be sure to check out our Business Reviews for more insight into the world of online business, marketing and strategies!
Check out LeadPages for a easy premium solution to building landing pages. Leadpages sign up now for a 14 free day trial!
We recommend trying Clickfunnels' One Funnel Away Challenge with marketing landing pages. You can also sign up for a 30 Summit along with their Traffic Secrets guide!
Top 5 Online Marketing Agencies in Quebec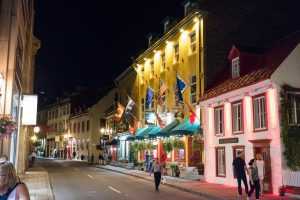 Digitad
Digitad is an Online marketing agency located in the heart of the Montreal Cowork coworking space. His ambition is to enable Quebec SMEs to achieve high web marketing results at affordable prices to maximize their profitability. More than 300 SMEs have trusted them! It is undoubtedly one of the Top Online Marketing Agencies in Quebec
The services offered by Digitad
Digitad offers a full range of web marketing services including:
SEO: SEO Analysis, Keyword Study, Strategy, Content Optimization, Link Acquisition, Mobile SEO, Video SEO
Google Ads: analysis, strategy, web advertising, Bing, mobile advertising, re-marketing
Advertising on social networks: advertising on Facebook, advertising on Linkedin, advertising on Instagram, advertising on Twitter
Social media management: analysis, strategy, social media, social media page, content creation, community management, contests, video publishing
Content Marketing: content strategy, writing, translation, revision
The Advantages of Digitad Online Marketing Agency
Affordable and transparent prices: aware of the challenges, the significant impact of digital marketing and the budgets of SMEs, Digitad offers 3 different packages to adapt its offerings to the real needs of your business so that it can achieve profitable profitability. It is the only agency that publishes its rates on its website. Here is an example of prices in natural references.
No contract: Digitad is a high performance web marketing agency. It does not require any contract signed by your client. What is important is the trust that your clients place in them and the results that they contribute to achieving their clients' objectives.
Specific experience: Digitad focuses its offer completely in the digital domain, covering disciplines such as natural references, paid references, social media management, etc.
A regional presence: Digitad recently launched new offices in Quebec and Gatineau to approach regional SMEs
Blog updated daily: in search of new trends: the Digitad agency has a blog in which it regularly publishes tutorials and articles on new trends, new tools, good practices that are not lost applying to the strategies they carry out for their clients.
Carburant
"At Carburant, the only measure of success is to increase your income," here is the promise of Montreal-based web marketing agency Carburant. This agency, Our Number 2 Top Online Marketing Agencies in Quebec, uses web marketing tactics to help you increase the number of qualified visitors to your site.
The services offered by Carburant
The Carburant agency focuses its services on the implementation of techniques to improve the position of your website in search engines:
Free SEO: external link campaign, SEO audit, local SEO, inbound marketing
Website design
AdWords management: targeting strategy, ROI monitoring
Content marketing
Email Marketing
CRO Expert from ZOHO
The advantages of the Carburant Online marketing agency
Affordable prices: its focus is on SMEs, it focuses on offering affordable services, adapted to the reality of your business.
Deep knowledge of various industries: entrepreneur, B2B, B2C, e-commerce, medical marketing, etc. Since its inception, the agency has covered various types of industry.
Preliminary Analysis Offered: Get a full 30-page analysis of your company and industry, your positioning against the competition, and your potential market.
Bang Marketing
Bang Marketing is a communication agency that offers various services to ensure the development of your brand, including SEO and web marketing. Bang Marketing offers the flexibility you need, appreciated in Online Marketing Agencies in Quebec
Administrative flexibility: you benefit from the services of a large company carried out by a small team, without bureaucratic procedures and extravagant fees.
Experts dedicated to B2C and B2B: the agency has developed solid skills and methodologies in the implementation of B2C, B2B2C and B2C2B strategies, knowing their challenges, needs and good practices according to the different objectives.
Blog and newsletters: Bang Marketing continually delivers content through its blog and newsletter that shows that it is aware of marketing Follow "Les humeurs marketing de Stéphanie" who shares his vision of marketing with you and the readers of Les Affaires (196 posts have already been written).
Rablab
Like Digitad, the Rablab agency in Montreal specializes in creating web strategies. Your goal is to mobilize all web marketing channels to enable you to improve your positioning, increase your visibility, reach your target audience and improve your performance.
The services offered by Rablab
Rablab offers a wide variety of services to help you achieve your business and marketing goals:
Natural reference
Paid reference (wk / ppc)
Optimization of the conversion rate (CRO)
Advertising on social networks
Social media management
Web design
The advantages of Rablab Online marketing agency
Specific experience: Rablab's services focus on digital marketing and its main components (SEO, Adwords, etc.).
Blog and newsletter: Rablab has a blog that covers fashion topics in web marketing. Follow their news or subscribe to their newsletter to find relevant strategic inspirations that you can adapt to your web strategy.
Web Marketing Index
Index Web Marketing is a Montreal based web marketing agency whose promise is to meet Google's SEO requirements to elevate your site to the highest positions in search engines. Not only do you design beautiful, ergonomic, and functional sites for your clients, but it is primarily based on website visibility in search engines. They represent more than 500 mandates carried out with 120 partners.
Check out LeadPages for a easy premium solution to building landing pages. Leadpages sign up now for a 14 free day trial!
We recommend trying Clickfunnels' One Funnel Away Challenge with marketing landing pages. You can also sign up for a 30 Summit along with their Traffic Secrets guide!
Read more Business Reviews on WeeklyReviewer!