How To Start A Digital Marketing Company
If you have excellent communication skills and a strong work ethic, consider applying them to build a digital marketing company. Are you a marketing professional looking to build on what you've learned and start on your own? Or maybe you dream of running your own business and want to transfer your skills and apply them to a field that is new to you?
Whatever the reason you want to set up your own digital marketing company, we will provide you with step-by-step instructions. For more check out The Best Strategies in Marketing.
Looking for more ways to work from home and start a business? Read our Top 5 Businesses to Start Working at Home!
Marketing for yourself and your business needs to start from the ground up. That means word of mouth, networking and growing an online presence.
Check out LeadPages for a easy premium solution to building landing pages. Sign up now for a 14 free day trial!
We recommend trying Clickfunnels' One Funnel Away Challenge with marketing landing pages. You can also sign up for a 30 Summit along with their Traffic Secrets guide!
Starting a marketing business can be a full-time business – with as many features as possible and sometimes a busy schedule, you may want to give your full attention to this startup idea.
Your digital marketing company could start as a complementary service, a commercial service or an activity that you carry out in addition to your usual work. Regardless of which route you choose, what do you need to know to get started?
Who can start a digital marketing company?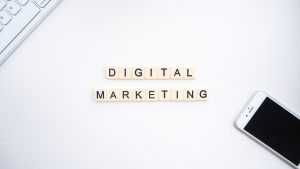 The following skills and traits are useful:
Able to adapt: This is a rapidly changing industry. You must be open to change and feel comfortable taking risks to successfully run a marketing agency
Desire to learn: There will be a lot of information you will need (often quickly), especially if you focus on SEO or digital marketing (see below) where the environment and variables can change quickly, an interest in learning is essential.
Excellent communication skills (essential for a marketing agency or digital marketing company): You will need to be able to speak and communicate with a wide range of people, be they potential clients or potential hires.
Now that you have learned what skills and qualities you need, let's take a look at the main steps you need to take when you are thinking about starting your own digital marketing company.
Find a niche
Marketing is a competitive industry, so you'll need to identify what makes your agency unique to help you stand out. One of the ways to do this is to offer a specialized service; For this purpose, the goal is to be known in the long term as an expert in a particular type of marketing. Marketing agencies can provide services for print, digital, radio, television and other media.
What can your marketing agency specialize in?
Pay Per Click Advertising (PPC) – Ads purchased at the top of search engine results
Search Engine Optimization (SEO): the process of maximizing page rankings when searching online.
Content Marketing: online content created for specific audiences about products or services.
Event Marketing– Event Promotion
Guest Blogs – Write blog posts and links to sites.
Email Marketing: promotional material sent by email
If you want to start your own email marketing business, learn how to fine-tune your email copy with our article on optimizing email open rates.
Is your marketing agency specialized in B2B or B2C?
You could also focus on the type of marketing your agency will create – will it be B2B or B2C marketing? B2B stands for business to business. Your agency may create marketing materials to help other companies position themselves in your industry or to target other companies.
B2C stands for "business to consumer". With this approach, your agency would be responsible for producing marketing directed directly at clients.
If you are starting a marketing business as a side business, evaluate the type of services it will offer; You may want to work on specific projects at once or work consistently for the same clients over a longer period of time. Regardless of the specialty you choose, it is important to have a clear and unique approach so that people know what your organization is doing and how it differs from the competition.
First, it is wise to build your business around a key service and do it very well. When you're ready to expand, you may want to consider offering other services to diversify your business offering.
Tips for creating a web marketing agency
Keep overhead low, don't overstretch.
Stick to what you can do, don't generalize. If you want to develop in other areas, call specialists.
Be measurable. Report and learn from everything you do, so you can test your customers' ROI and learn from what you do.
50/50 billing. Cash flow is king: charge 50% upfront for projects and 50% on completion, or 25/25 on defined milestones.
Practice what you preach. Don't pretend to be social media specialists or blogging superstars if your own social media content and results are outdated and mediocre. "
Identify your target market
After deciding what type of job you want your agency to create, the next step is to determine who to market to and why. You may want to take on as much work as possible, especially in the beginning, but be sure to ask yourself if you're serving your target market; otherwise, don't be afraid to say no.
When you start your own marketing agency or are self-employed, it is tempting to make excessive promises in an attempt to attract clients. However, this is a short-term strategy. Be confident in what you can offer and what you can achieve from the beginning, and although it may take longer to build a customer base, you will set yourself up for success.
In our experience, customers appreciate transparency in an industry known for its lack of clarity. So even if you feel like you're facing a lot of competition, honesty really is the best policy, both at the launch stage and during your partnership. It could mean having the confidence to say "no" when a customer wants to run the campaign in a certain direction.
Check out LeadPages for a easy premium solution to building landing pages. Sign up now for a 14 free day trial!
We recommend trying Clickfunnels' One Funnel Away Challenge with marketing landing pages. You can also sign up for a 30 Summit along with their Traffic Secrets guide!
Another aspect of positioning your business is knowing where your target market is. For some companies, it may be large international projects, while for others it may be focusing on the local territory. Analyze the market and look for gaps, be it an industry, service or location that is currently unattended. Think of market gaps as opportunities your business could take advantage of.
From the beginning, it is essential to think about your agency's brand; This includes what your business does and why it does it. Think of your brand as the history of your marketing business. You'll need to identify the main characters (your team members), the plot (what your business does), and the style (how your business communicates).
Then tell this story over and over again. Your brand is communicated through all the actions of your company, from general concepts such as your name and logo to the smallest details, such as the fonts you use on your website.
Read more Business Reviews on WeeklyReviewer!