LG Nano Cell TV or LG 55SM8200
The LG 55SM8200 is the most affordable TV in the Korean manufacturer's Nano cell TVs series. This is our LG Nano Cell TV Review. The LG Nano Cell TV uses a quantum dot filter to improve energy efficiency and color spectrum coverage, at least in theory.
LG Nano Cell TV Review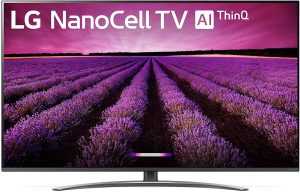 Presentation
The 55SM8200 occupies the heart of the LG range. LG Nano Cell TV has a 55-inch (approximately 140 cm) panel that displays an Ultra HD definition of 3,840 x 2,160 pixels equipped with a nano–cell filter that uses quantum dots to improve color reproduction and viewing angles.
The native refresh rate is limited to 50 Hz and uses an Edge-Led backlight system consisting of a single bar at the base of the panel. On the audio system side, this model has two 10W speakers.
It is powered by the WebOS system in its latest version 4.5 accompanied by the Magic Remote. The LG 55SM8200 TV sells for around € 900, but it's pretty easy to find around € 700. It's also available in a 49-inch version (49SM8200, about 125 cm) for around € 600 and in a 65-inch version. (65SM8200, approximately 165 cm) for € 1,200.
Gallon-shaped subpixels confirm the use of an IPS-type LCD panel. This technology improves viewing angles, but produces less contrast than a VA panel. However, the results are far from perfect since we have measured a variation in brightness of 65% at 45 °, almost as much as in a VA panel (70%).
This is a far cry from what Oled technology offers with just 25% variation at 45 °. IPS technology, which is supposed to offer very good viewing angles, has clearly disappointed us on this TV.
As often, it is the Cinema mode that allows the most faithful representation. In this mode, we measure a delta E of only 3.1. Colors cannot be considered perfect, but colorimetric drift remains controlled, knowing that the average is not far from the threshold of 3 below which the eye no longer differentiates between the ideal colors and the colors displayed. .
Adjusted to the BT.1886 standard, the gamma shows an average of 2.13, but above all it benefits from a stable curve in most of the spectrum. Therefore, the gray scale is fairly well represented, with the exception of light gray, slightly overexposed.
The temperature curve is stable across the spectrum and the average measured at 6,410 K is very close to 6,500 K from the video standard. It is perfect at this point. Unsurprisingly, the contrast of 890: 1 is very limited and results in faded blacks appearing gray.
The 55SM8200 tries to play with dynamic brightness to improve contrast, with no apparent success. The white measured at 148 cd / m² in our 35% thus goes to 87 cd / m² in our objective that contains 1% white, that is, an average of 118 cd / m² in white and 0.13 cd / m² in black. For use in broad daylight or in a fully lit room, this low contrast is not an issue. It is much more in the dark or in the dark to watch a movie or television series.
Here are some of the top LG Nano Cell TV's on Amazon:
We hope you enjoyed our LG Nano Cell TV Review. Read more Technology Reviews on WeeklyReviewer!