Laplink Software PCmover Ultimate 11
Laplink Software PCmover Ultimate 11
is the perfect software for you. We can agree that moving your files and programs to a brand new PC can be difficult. Most of the time, you will have to wait for days before you transfer everything. Even so, there is always a chance that you will miss some of the important files. This software is here to ensure that you do not go through such experiences anymore. It will save you time and ensure that you capture everything you need for your new PC.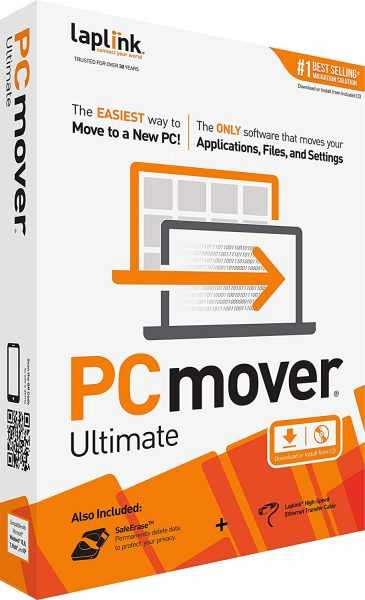 Introduction
The
Laplink Software PCmover Ultimate 11
is the easiest software to use for your transfers. It is designed in such a way that the installation and transfer process is the easiest. In only three steps, you get to start the transfer of your documents, files, and applications from one PC to the other. For users of Windows 10, this product can be very beneficial to you since Windows 10 does not have the easy transfer feature. The software comes with an Ethernet cable, the Laplink High-speed Ethernet cable that you can alternatively use for the transfers. Through this software, you can transfer your data even if the operating systems on the two PCs are different. The transfer process only takes three steps; Install the software, Connect the PCs, and Transfer your information. You should, however, note that any windows updates should be done before the transfer of the files. This is a software that will have your new PC having everything that was on your old PC within a few hours after installation.
Benefits 
One of the benefits that you will get from this product is that you can transfer everything to your new PC without leaving or missing anything out. The software allows you to select the files, documents, settings, applications, and user profiles that you want to be moved to the new PC. Besides that, you can move these items even if the windows on the old PC is different from the new one. This way, nothing changes on the old PC, and nothing is overwritten on the new PC. In other words, the functionality of the old PC is maintained on the new one. The software also comes with a safeErase feature that will permanently delete any information on your old PC should you decide to recycle or resell it. This way, the old PC is set as a new one, and any sensitive or personal information is protected.
Features 
Some of the key features that make the
Laplink Software PCmover Ultimate 11
stand out include:
The PCs Auto-connect feature, which allows computers to discover and connect automatically.
Improved Application Processing which is a set of algorithms that help transfer more applications.
Streamlined User Interface, which makes it easy to use for even novice users. The installation process is easy, and the wizard provides steps for complete installation and usage. It has an expanded option for expert users of the software.
It has an undo feature that allows you to reverse the changes made on your new PC or the selection made for the transfer.
The software is compatible with windows vista, Windows XP, Windows 7, Windows 8, Windows 8.1, and Windows 10.
The items you select for transfer will automatically be transferred to the new PC.
Once your computers auto-connect and the transfer process begins, you can walk away and let the software do the rest of the work.
Customer satisfaction 
Most users attest that the Laplink Software PCmover Ultimate 11 has saved them time and energy in transferring files, documents, settings, and user profiles from one PC to another. The general feeling is that this is the best software for your transfer needs as it not only automatically transfers the selected items, but it also takes a short time in doing so. However, some complained about the software not being able to move other programs like antiviruses and antispyware software. To avoid any complications arising on your new PC, you need to note some of the things that the manufacturer highlights on the software. These are: some applications may not be compatible with the new OS, you cannot transfer data from a newer OS to an old OS, applications with unique copy protection may need to be deactivated on old PC and reactivated on new PC with the original activation keys, and you have to follow user license agreements with applications moved to new PC.
Advantages and disadvantages 
The software is the easiest to use and can make transfers within a few hours. It also allows you to undo any changes to your new Pc or a selection you have made. However, you cannot transfer your information from a PC with a new version of windows to one that has an old version of windows. For example, you cannot transfer data from windows 10 to windows 7.
Common Questions Asked 
Conclusion 
In this digital age, you do not have to struggle to transfer information between your computer. You also do not need to spend days manually moving this information for you to start enjoying your device.
The Laplink Software PCmover Ultimate 11
is the best solution for your files, documents, settings, and user profiles transfer needs. You can always undo these changes in your new PC; otherwise, you go ahead and enjoy using your new gadget. Read more
Software Reviews
on WeeklyReviewer!