EaseUS MobiMover Review Free iPhone Data Transfer and Video Downloader
Apple users rejoice! If you own an iPhone or Apple device you'll be able to transfer data seamlessly to and from your iPhone for free! EaseUS MobiMover is a replacement for iTunes and most data transfer alternatives for the iPhone. This review focuses on the features, and our experience testing them on an old iPhone 6.
While we get into our observations, let's talk about what EaseUS MobiMover has to offer in it's free version. You can find their EaseUS MobiMover Pro version here.
EaseUS MobiMover Free Feature Review
We tested the EaseUS MobiMover Free edition with a medium range laptop and an iPhone 6. The software should easily connect to all iPhones, so to test this we used an older version, still common among the populace.
MobiMover Design and UI/UX
We found the UI/UX of the MobiMover to be splendid, showcasing a clean dark matte design, good contrasting and designed buttons and an easy to follow layout.
MobiMover Speed
We were impressed with the overall efficiency and speed of this program, with no lag or negative aspects to mention really. The software is definitely lightweight, but is powerful enough to make you appreciate it coming fast. This is definitely faster and easier than iTunes.
Our favorite functionality is the easy browsing, selecting and transferring of files. But let's talk about what the MobiMover has to offer.
MobiMover Functionality
Manage your iPhone data with MobiMover's Content Manager
Data transfer from iPhone to PC
Data transfer from PC to iPhone
Video Downloader for YouTube and 1000+ other platforms like Vimeo, Instagram, and BBC
Whatsapp Backup/Restore
Whatsapp message transfer from one iPhone to another.
MobiMover Free Thoughts
We are pleased with the overall performance and functionality of the EaseUS MobiMover Free edition, and look forward to enjoying the range of benefits it offers. It's free functionality is powerful and manageable for most able bodied iPhone users who need data transferring software. Check out EaseUS' guide on transfer video from iPhone to PC.
I also find it useful as just a video downloader for YouTube and Instagram! Check out EaseUS' guide on how to download YouTube videos in laptop.
EaseUS MobiMover's Content Manager for your iPhone Files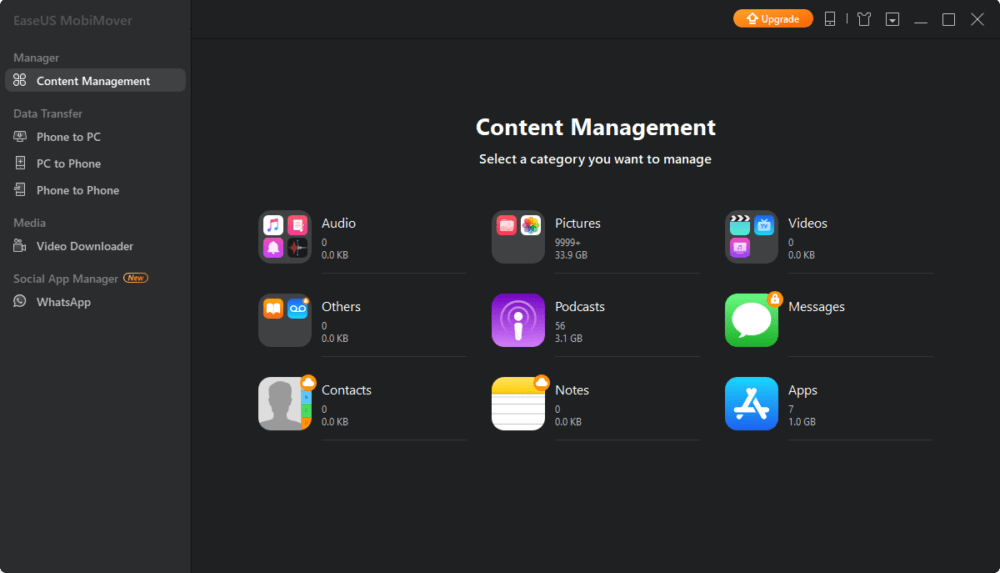 Simply connect your iPhone and let your computer register your device. Once connected, simply wait for the Content Management section to finish scanning your iPhone for files. If you have a lot of files, this may take a few minutes.
The Content Management system lets you browse, view, transfer and delete files on your iPhone from your PC. This feature is super fast and clean, leaving out a great deal of file browsing stress.
EaseUS MobiMover Offers Easy Data Transfer for You iPhone and PC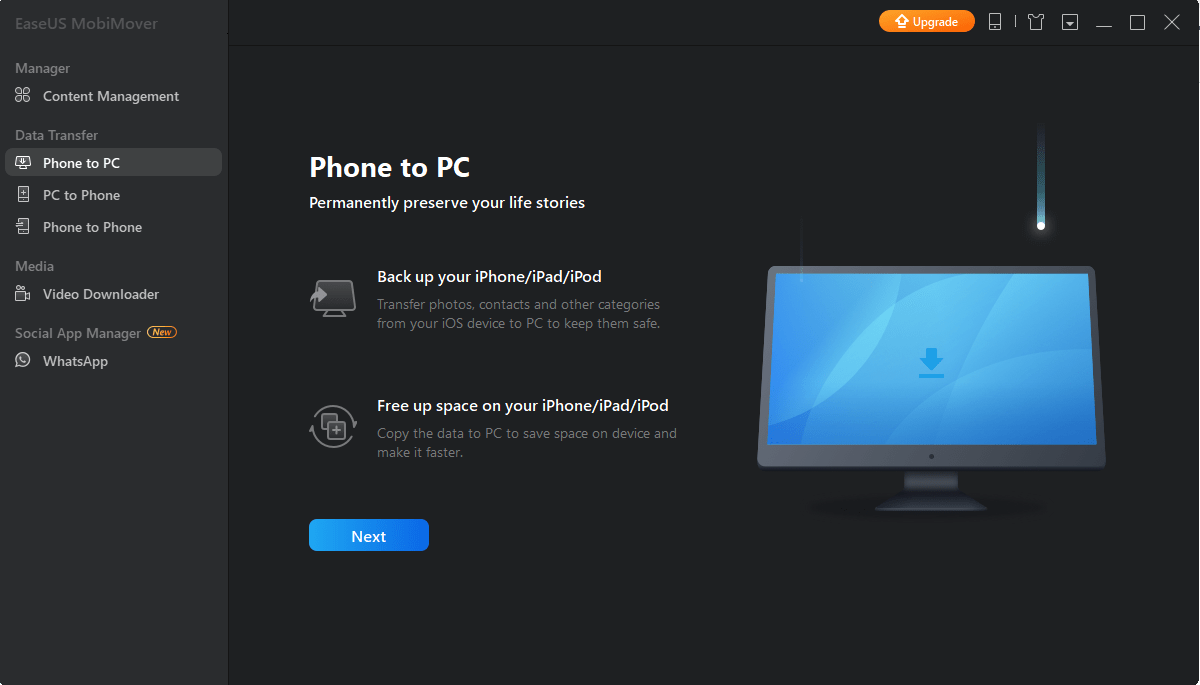 What that means is, data transfer from your PC to iPhone and vice versa from your iPhone to PC. This process is somewhat complicated through iTunes, their device management and syncing; issues Apple users have complained about since the dawn of the iPhone.
The free version offers 20 file transfers per day; while a limited use, 20 files daily is still a generous function for freeware. Running a medium price ranged laptop and an iPhone 6, we transferred 20 podcasts totaling just over 3gb (3 GigaBytes) and it took us roughly 1-2 minutes to transfer, with no interruptions and a seamless experience.
Download Videos from YouTube and over 1000+ Other Video Platforms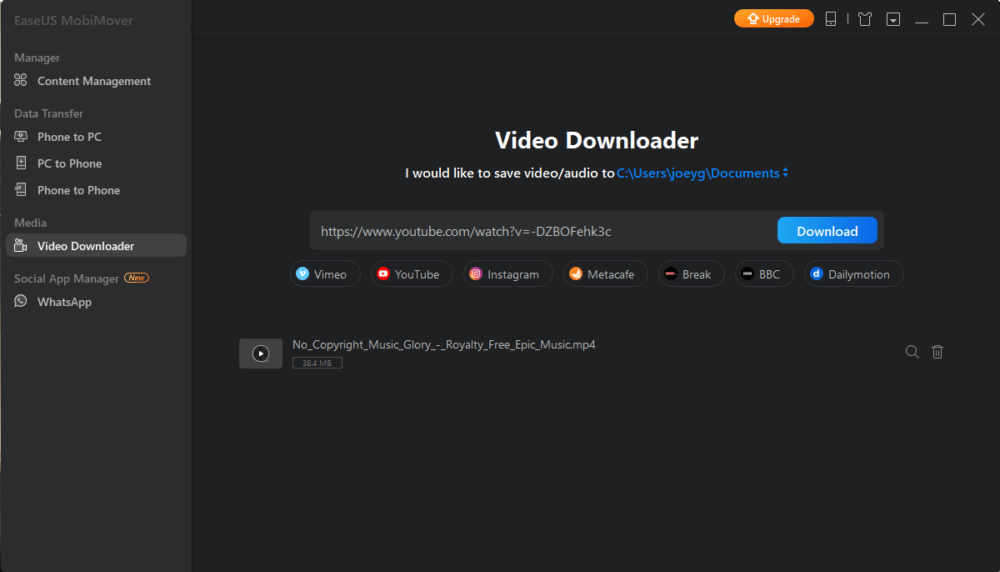 The EaseUS MobiMover comes with a free video downloader. supporting over 1000+ platforms like YouTube, Instagram and Vimeo. Simply click on the Video Downloader tab on the left panel -> Enter the address of your video -> Click download.
Your video should begin downloading, and can be played through the in software video player, or you can find it's file location on your computer. This is truly a wonderful addition to this software, and is a valuable feature on it's own. If you want to know more, check out EaseUS' guide on how to download videos using their MobiMover.
Read more Software Reviews and Utility Software Reviews on WeeklyReviewer!