How long will it take for Australian forests to recover after the fire?
Much research has been conducted in Australia for the disturbance caused due to the forest fires; prompting the question: how long will it take for Australian Forests to recover after the fire?
In a study, in southeast Australia, 729 soil cores from 81 sites have been taken for samples. These samples sites were gone through fires and clear-cutting etc. in the past. The researches examined the proportion of nutrients in soil and checked which nutrient is the most impacted.
The researchers in the past didn't focus on the soil where the disturbance occurred due to the fire. You will find a few kinds of research about it. They said that it took so many years for the forest to recover from the disturbance. After a wildfire, it took a total of eighty years to recover, shown from the studies. If the disruption is caused by human or nature, both have an impact on the soil, which affect the ecosystem of the forest for years.
If the forest fire is intense, the temperature of the soil becomes 500 degrees Celsius which means the nutrients in the soil are destroyed. And the ground destroys more and more when the forest goes through the figures repeatedly.
Outlook for Australian forests to recover after the fire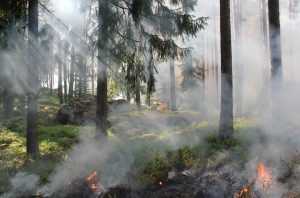 Bowd said: "Long-Lasting declines in key nutrients such as nitrate, phosphorus and organic carbon could have flow-on effects on the functional roles soil have- these include plant growth and survival, nutrients cycling, and supporting microbial communities like fungi and bacteria,''
Full study report on Nature.
From another study, a professor at Australian National University said, that it takes 10 or 15 years to recovers after the fires in the forest.
LindenMayer, one of the authors of Mountain Ash: Fire, Logging and the Future of Victoria's Giant Forests, said that the Victoria's Mountain Ash in the previous 80 years have been exposed to fires and logged, and these are now struggling to recover. There are other forests throughout the world, facing the same when they are gone through the bush fires and logging.
So, when a forest is related to the fire, it takes decades to restore to its original form. Sometimes it takes less time to recover as mentioned above to be 10 or 15 years. Or sometimes more than that. The recovery time depends on the type of fire in the forest and the weather and climate changes there. Some forests have low intensity and low burning fire which destroy the underbrushes and not the trees. But if the weather condition is intense, the fire grows and its more intense destroying trees and bushes.
Read more Science News on WeeklyReviewer!