What is Covid Toe?
Fever, cough, fatigue, body aches, loss of taste and smell, diarrhea and now "Covid Toe"? French, American, Spanish and Italian dermatologists have seen an increase in symptoms of Covid-19 known as Covid Toe. Covid Toe presents as blisters on toes.
What is Covid Toe? Covid Toe Study Review and Analysis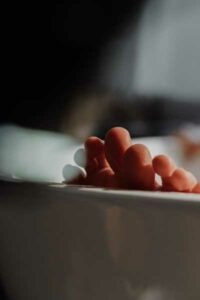 According to the National Union of Dermatologists-Venerologists (SNDV), more than 400 liberal professionals or those who practice in university hospitals have observed skin lesions of patients with certain symptoms of Covid-19.
SNDV has specially created a WhatsApp group to allow dermatologists to discuss the issue. The latter reports a symptom that the union describes as follows in a press release: these are acrosyndromes (appearance of pseudo-freezing of the extremities), sudden onset of persistent, sometimes painful redness and transient urticaria
It is remarkable the fact that the observed cases concern adolescents and young adults that alert us, specifies Dr. Luc Sulimovic, a liberal dermatologist and president of the national union of dermatologists-vennerologists, questioned by the doctor's Daily. And adds Dr. Sulimovic: Some patients are asymptomatic while others have weak lung signs.
The profession on alert
In any case, these diagnoses have been numerous enough since the start of the epidemic in France to have prompted the French Society of Dermatology (SNV) to launch a surveillance call to its members on March 30.
Recently, the Dermatology Department of the Henri Mondor Hospital in Créteil recently observed cutaneous signs such as maculopapular erythematous lesions (redness of the skin) that exclusively affect the face in three patients (one child and two adults) with a very probable or confirmed infection. Covid-19, explain the four signatories to this call, including Marie Beylot-Barry, president of the French Society of Dermatology.
Admittedly, no medical writing does not currently show the status of acrosyndrome as a symptom of Covid-19, but this assumption remains plausible according to dermatologists and teams who had to treat severe cases of Covid-19 and present bleeding disorders; disorders that can accurately lead to the injuries described by SNDV and SNV.
Calls launched by the latter to the profession aim to identify cases, collect them, to say whether or not skin lesions should be included in the Covid-19 symptom table.
The rash often goes away on its own and poses no health risk, says Dr. Charlotte Moore Hepburn of the Canadian Pediatric Society. However, he recommends that parents consult a doctor if their child has a skin rash as it may be a symptom of coronavirus infection and a screening test may be recommended.
If the child has COVID-19, he and his parents and anyone who has been in close contact with the child should be isolated at home, she says.
Fewer severe cases of COVID-19 in children
Until now, children infected with the coronavirus have generally had less severe symptoms than adults.
According to a study published by Chinese researchers in Periodic Pediatrics, approximately 6% of infected children had severe or critical symptoms compared to almost 19% in adults, among 2,135 cases registered in January and February.
The Canadian Public Health Agency, on the other hand, reports that youth under the age of 19 account for 5% of infections in the country. Fortunately, only a small percentage of children who test positive need hospitalization, says Dr. Moore Hepburn.
Dr. Jeffrey Pernica, professor of pediatrics at McMaster University in Hamilton, also notes that children appear to be less affected by COVID-19.
Maybe it's because of the different immune system in the child, or because children have been exposed to other coronavirus-like viruses and have acquired some immunity, he thinks. Investigators have yet to find a definitive answer.
However, you should be on guard, according to Dr. Isaac Bogoch, an infectious disease specialist at the University of Toronto. In an interview with CP24, he noted that an infected child can transmit COVID-19 to an adult in whom the disease can manifest with more severe symptoms.
Read more Science News on WeeklyReviewer!