Quarantine in India Extended until May 3rd
Indian Prime Minister Narendra Modi has announced the extension of the Quarantine in India until at least May 3rd, a necessary confinement of his country of 1.3 billion inhabitants. It is the world's largest population subject to this type of measure in the fight against the Coronavirus pandemic.
"Until May 3, all Indians must remain confined," Indian Prime Minister Narendra Modi said in a television address on Tuesday, April 14. While the number of cases of contamination has crossed the 10,000 mark in this country of 1.3 billion, the head of government called on everyone to "stop the spread of the Coronavirus in new regions."
Quarantine in India Extended by Modi until May 3rd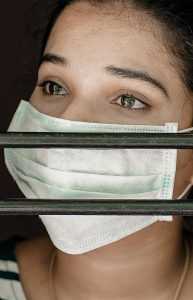 "The path we have chosen is correct"
Severe quarantine in India has been in place nationwide since March 25 in the second most populous nation on the planet. It had originally been declared for three weeks, but given the rapid growth in local Covid-19 cases, many states had in recent days called for the central government to extend the device.
If this decision had not been made, "the situation in India would have been different. From the experience of the past few days, it is clear that the path we have chosen is the correct one," he said. India has so far identified 10,363 confirmed cases of Coronavirus and 339 deaths, according to the latest official report on Tuesday morning. These figures are probably underestimated due to weak detection.
Economic cost
"From an economic point of view, we have paid a significant price," said the Hindu nationalist leader in his televised address to the nation, "but the lives of the Indians are much more precious." The South Asian giant has been stagnant since late March.
Public transportation stops and the borders between different states are closed. The severity of the containment implementation has left thousands of supply trucks stranded on Indian highways and workers in critical sectors are no longer able to go to work. With supply chain disruptions, even crucial sectors such as food companies face difficulties operating.
The cessation of activity was a severe blow to the poorest Indians, who live day by day and have little or no savings. Millions of daily workers suddenly found themselves without a livelihood and had to walk back to their village, sometimes walking hundreds of kilometres. Deprived of resources, many Indians today depend on food distributions operated by authorities or charitable organizations to survive.
Starting April 20, less-affected districts could benefit from relaxation of containment on a case-by-case basis to resume an appearance of activity, Narendra Modi said. New rules for the operation of essential sectors under quarantine in India, such as industry and agriculture, will be announced on Wednesday. Analysts expect growth of just 1.5-2% this year in India, well below the 8% annual increase it needs to absorb the millions of young people who enter its workforce each month.
Read more World News on WeeklyReviewer!