Ice Tracking Space Laser
Scientists at NASA's Ames Research Center have spent the past few years observing the oceans with special tools. But how do scientists map the seafloor?
These are devices that can correct the optical distortion caused by sea water and therefore provide a clearer and more detailed image of the sea floor.
Data from NASA's ICESat-2 satellite, their Ice tracking space laser, delivered shocking results as it's underwater reflections could help map the seafloor.
Ice Tracking Space Laser Could Help Map the Seafloor and Monitor the Health of Coral Reefs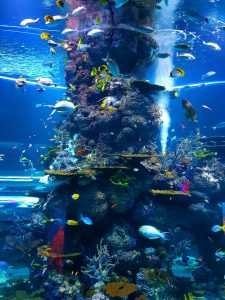 The researchers were able to obtain a large amount of data, consisting of 3D images of corals, algae, and other marine vegetation, after exploring the oceans in the Guam, Puerto Rico, and Samoa regions.
To classify all the collected data, the scientists at the Ames Research Center had the idea to create a video game called NeMO-NET. The game can be installed on iPhone, iPad, as well as on a computer. Use the images obtained during real expeditions. Therefore, everyone can access it and explore the seafloor virtually while identifying and classifying corals.
According to reports, the game will help scientists create a better map of the world's corals, and therefore support the conservation efforts of these species.
The beginning of the game.
The NeMO-Net game provides information on the different types of corals and highlights where they can be found. Players have access to recorded images during scans and earn badges as they go.
According to the researchers, all user-generated data will be used to train a NASA supercomputer to automatically identify corals. Ved Chirayath, the NASA principal investigator who developed the neural network used by the game, explains that NeMO-Net uses the most powerful force on the planet, which is its population. According to him, everyone, without exception, can reproduce and classify the data, even elementary school students.
A great challenge
It is important to protect the oceans, as they are very important to preserve the health of humans and the planet. In fact, they are an important source of food and also help regulate the level of carbon dioxide in the atmosphere. However, the oceans are currently threatened by pollution, overfishing and other factors such as acidification, and coral reefs are among the most threatened ecosystems.
The detailed map that will be produced by NASA from the data extracted from the video game will serve as a reference for the protection of corals. Then it will be easier to understand which parts of the oceans need the most protection.
So you can also participate in the effort to conserve the oceans in general and corals in particular by playing the NeMO-Net game. For those who have children, it will also be an opportunity to teach them to take an interest in marine biodiversity.
Check out more Science News on WeeklyReviewer!