Andrew Cuomo Orders Police to Enforce Social Distancing
Fines for people who don't follow the governor's executive order went from $500 to $1,000 as Andrew Cuomo Orders police to enforce social distancing. New York Governor Andrew Cuomo said people don't take social distancing seriously.
Many Agree There have been 4,300 calls to 311 about people congregating. However, only 21 calls have been written in the city.
Governor says it's not about the money
"No one wants the money, we want compliance. We are serious. And, again, it is not about your life, but you have no right to risk someone else's life. You do not have the right, frankly, to take care staff and the people who are literally risking their lives, and who are arrogant or reckless with them. You just don't have the right, "Cuomo said.
The city is not the only place where they are seeing a problem.
Hempstead is now becoming the epicenter of the outbreak in Nassau County, prompting officials to begin imposing social distancing. Police officers now patrol high-traffic common areas such as the NICE bus station and the LIRR station.
Authorities say residents have ignored the recommendations for social distancing and continue to meet in parks and downtown areas, which has helped spread the virus.
Governor says there is no excuse for not keeping his distance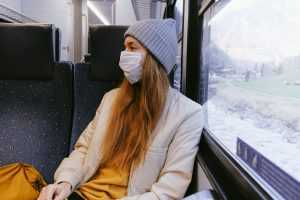 "The weather is changing, it's a nice day, I'm going out for a walk. Now is not the time to do it. And frankly, there has been a relaxation in social distancing, especially over the past weekend, that's just unacceptable, "he said.
In Hempstead they say that when officers spend time separating the social distance that is driving them away from other calls they need to answer.
While President Trump says he does not plan to impose containment on all Americans, New York State Governor Andrew Cuomo on Friday ordered the cessation of all non-essential activities to counter the COVID-19 pandemic.
The restrictive containment measures imposed by Andrew Cuomo on New York State's 19 million residents are in all respects similar to those imposed on the 40 million Californians on Thursday.
And soon after the announcement in New York, authorities in Illinois, New Jersey, and Connecticut also announced more restrictive measures than those announced so far at the federal level. The five states now affected by these stringent measures represent more than 85 million people, including 60 for California and New York.
New York State health officials have documented 2,950 new cases of COVID-19 in 24 hours, bringing the total to 7,102. To date, the death toll stands at 35. In New York City alone, there are 5,151 cases.
In California, 1,055 cases have been recorded to date, with 19 deaths. It is a great blow to the country's economy because, alone, California and New York represent almost a quarter of the United States' gross domestic product (22.3% in 2018).
The first houses the heart of global finance and the second that of new technologies and the Internet. We are all in quarantine, Andrew Cuomo said Friday. I believe these decisions will save lives.
Starting Sunday, therefore, all workers in sectors deemed non-essential will have to stay home as much as possible. No, it is not life as always, Governor Cuomo said. You have to accept it, understand it and deal with it.
Trump gets carried away live
At a press conference on Friday, the US president ruled out the possibility of confinement across the country. He said he was close to a deal with Democrats, the majority in the House of Representatives. This agreement would help households and businesses facing the economic consequences of the pandemic.
When the NBC News White House reporter, speaking about the victims of the disease and the cases identified so far in the country, asked the president what he had to say to reassure citizens, Donald Trump was angry, live, in TV.
I say you are a terrible journalist, that's what I say, said the president. It's a lousy question, and it's sending a very bad signal to Americans. You make sensationalism.
However, the US president announced that the closure of the border that separates the United States from Mexico would be stricter, prohibiting all non-essential movements. In Trump's eyes, illegal immigration threatens to create an absolute storm in the context of the pandemic.
Read more Political News and Science News on WeeklyReviewer!