Our Beginner's Guide to Ecommerce
Ecommerce or E-Commerce can be tough to wrap your head around. When you purchase goods and services online, it's ecommerce. This is our beginner's guide to understanding Ecommerce.
Most of the people in America prefer to shop online rather than offline. Whether you're lazy or just trying to save time, online shopping is a booming business unlikely to shrink in the next decade.
It's one of the reasons the e-commerce businesses are on the top. And that's why everyone wants to open their own e-commerce business.  But working from home isn't all that easy, much less earning money online.
You want to set up an e-commerce business like others have but don't know much about e-commerce? In this article, you will get to know about e-commerce stores.
What does Ecommerce or E-Commerce mean?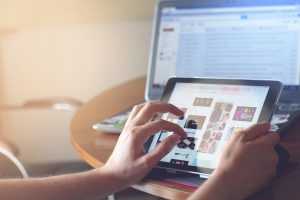 Ecommerce, or E-commerce, stands for electronic commerce which means online business. Online business, or ecommerce, has grown in the last decade with very high levels of business from major platforms like Amazon and Ebay. But that's only the tip of the iceberg when ecommerce is all encompassing of every form of online merchanting.
We term every ecommerce to be an online business, but it would be wrong if we say that every online business is e-commerce. Some businesses monetize their online platforms with ads and promotions, which on the surface can be excluded from ecommerce; but behind the scenes, even these have aspects of ecommerce necessary for advertisers and websites (publishers).
Before we look at the benefits of ecommerce, lets talk about the types of ecommerce available today. (With some examples!)
Types of Ecommerce
Ecommerce involves a buyer and a seller. Below we talk about who the buyer and seller can represent; A Business (B) or a Customer (generally a consumer or individual) (C).
1)  B2B (Business to Business):
Business to business is used for the kind of companies which sell their products to other companies, or businesses, directly; that's why it's named called Business to Business or B2B. A great example is manufacturing or wholesale to retail, like the auto industry (most auto parts are sold directly to retail or service businesses to work with however they need).
A great example of a B2B site is Alibaba (like graphics cards resellers and manufacturers buy at discounted prices), a hub for manufacturers overseas to sell directly to businesses needing wholesale products. They are also B2C, C2C and C2B (these terms explained further below).
2)  B2C (Business to Consumer):
Business to Consumer as the name indicates is when companies sell products to the end consumers. For example, Nike is e-commerce which is included as B2C.
3)  C2B (Consumer to Business):
It's a relationship between consumers and companies where the consumers offer services to the companies. For instance, Freelancer.com and Fiverr are great examples where the consumer offer services to available companies.
4)  C2C (Consumer To Consumer):
It's a relationship between buyers familiar on marketplaces and forums. For example, eBay and Alibaba, where consumers can purchase directly from individuals (non businesses). Of course, many C2B businesses usually are C2C as well. Freelancer.com and Fiverr are great examples of this.
What are the benefits of Ecommerce?
Ecommerce is great for growing your online business and making a profit. Let's talk a bit about the benefits of Ecommerce.
1)  Work from your home:
Working from home is a growing strategy for entrepreneurs and business owners. Working from home gives you more freedom to live and work at the same time. Ecommerce is generally manageable from a home computer, and if setup correctly can be a completely automated way of earning money online!
2)  Design your store free of cost:
You don't need to pay someone to design your online store. You can choose the best layout and theme for your store yourself without hiring a third party to do as in the case of offline stops. Read our article Benefits of a Landing Page to learn more about how to convert visitors with a great landing page!
Landing pages are a great way to help your business grow, and maintain traction through actionable leads. If you're interested in more ways to earn money online, check out our Top 5 Methods to Earn Money Online.
Check out LeadPages for a easy premium solution to building landing pages. Leadpages sign up now for a 14 free day trial!
We recommend trying Clickfunnels' One Funnel Away Challenge with marketing landing pages. You can also sign up for a 30 Summit along with their Traffic Secrets guide!
3)  Low investment cost:
Brick and mortar stores can cost tens of thousands in down-payments, hundreds of thousands in management and overhead, and millions in the long run.
You don't need to spend millions on setting up your online store. You need to pay for the domain and hosting, and build your idea onto a template. Even custom designed ecommerce stores can be affordable through freelancers. Check out Fiverr Pro, a provider of freelance experts who can bring your store to life!
Read more Business Reviews on WeeklyReviewer!